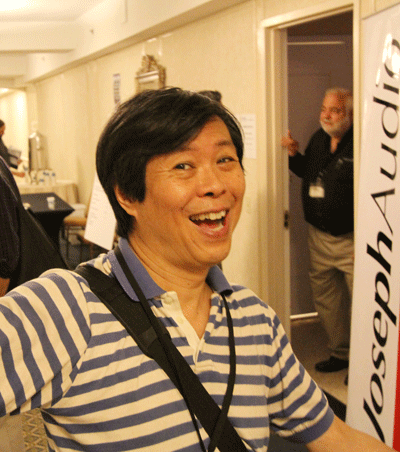 It's been a number of years since I attended the last high-end audio show in New York City, so I was eager to make my way to midtown Manhattan for AXPONA NYC (Audio Expo North America). The show was held for two days (June 24-25, 2011) at the Affinia Hotel near Penn Station. I knew I was in Kansas, eh I mean AXPONA, when I encountered several audiophile friends in the hotel lobby.
The first room I entered was the Audio Power Labs and Wharfedale room. As I walked around the black curtains to enter the room, I saw two behemoth monoblock amplifiers glowing like beacons in the night. Man, they were impressive looking.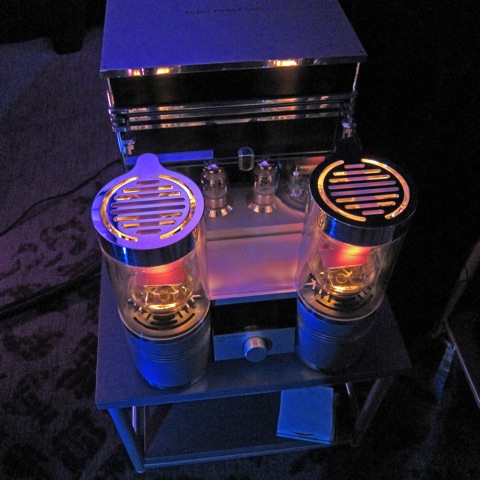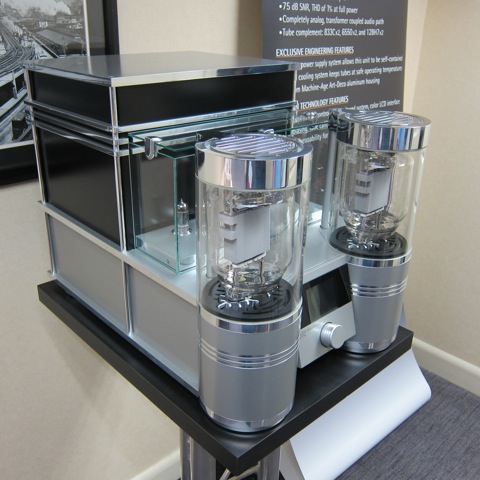 I spoke to Peeya Iwagoshi, VP of Audio Power Labs, who told me the amplifier uses 833 transmitter tubes and puts out 200 watts rms @ 8 ohms. Not only that, but the amp is auto biasing. Whew, what a relief! I would hate to fiddle with those things. The monoblocks cost a tidy sum of $175,000 for the pair. They were partnered with the Wharfedale Neo Airedale 3-way speakers ($25,000 pr), Audio Research Ref 5 preamplifier (approx. $13,000), Musical Fidelity M6 CD player (approx. $2,500), Merrill/Williams turntable (approx. $9,000) and various Harmonic Technology cables. I don't think the system was dialed in on the first day I visited, but sounded much, much better the second day when I returned for a listen. After I heard a few songs, John Marks of Stereophile came in with violinist Arturo Delmoni to do a final sound check before Mr. Delmoni was to perform live later in the room. Mr. Delmoni's violin playing was accompanied by a CD recording of a organ, played through the Musical Fidelity M6 CD player. The melding of live and recorded sounds blended very well, and I couldn't tell if it was live or Memorex!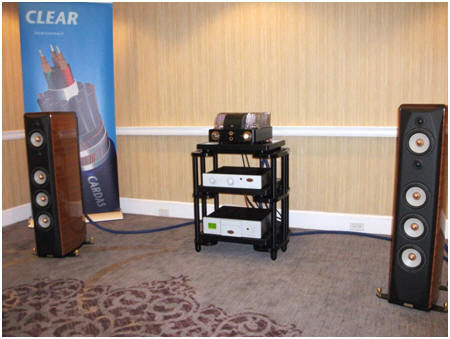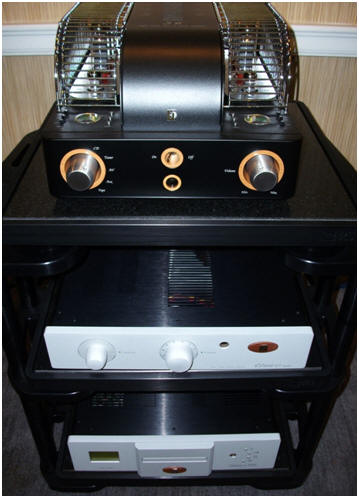 Unison Research products have not been sold in the United States for about two years. The Italian company is planning to make its U.S. return soon and is looking for a dealership network. At the show, they were showcasing the S6 class A integrated amplifier, in a single-ended parallel design utilizing EL34 output tubes and producing 30 watts (approx. $5,000), along with their CDE CD player, a hybrid design (4 12AX7 tubes) at a cost of $3,900. The S6 integrated was driving the Opera Grand Callas speakers ($10,000). Cardas Audio chose this show to debut their new Clear cable line by providing wiring for the system.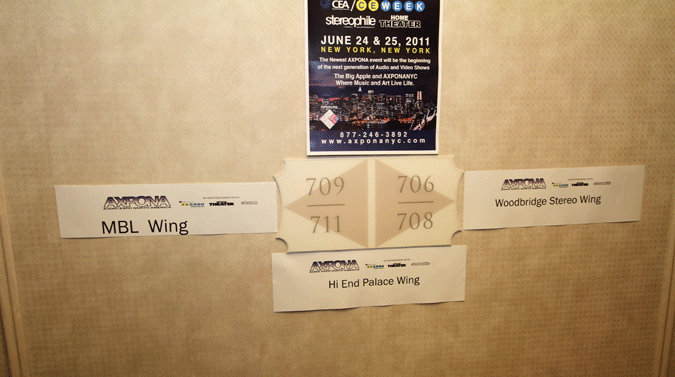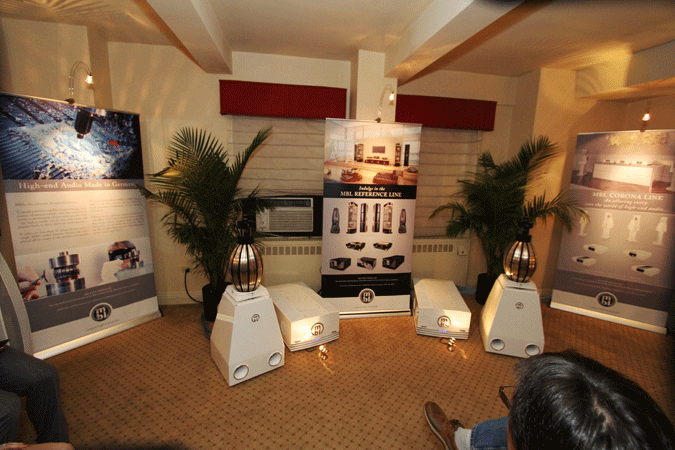 I was awed by the beautiful audio products in the MBL room. Each piece was in a gloss white finish, similar to the paint quality of a luxury automobile, say a Mercedes Benz or a BMW. While each piece at the show can be purchase separately, the potential customer may also buy everything as a combo system. In fact, the MBL catalogue has combo systems at different price points. The system at the show is Combination D in their catalogue and cost is $259,700 for the whole shebang. For anyone who wishes to purchase the components individually, the prices are as follows: 6010D preamplifier ($26,500), 9011 monoblock power amps ($106,000 pair), 1621A CD transport ($28,000), 1611F 24 bit/96/192 khz D/A converter ($28,700) and 101E MII Omnidirectional loudspeakers ($70,500 pair). I heard some Pink Floyd selections and the bass overloaded the smallish room, but otherwise the sound was very open, airy and dynamic.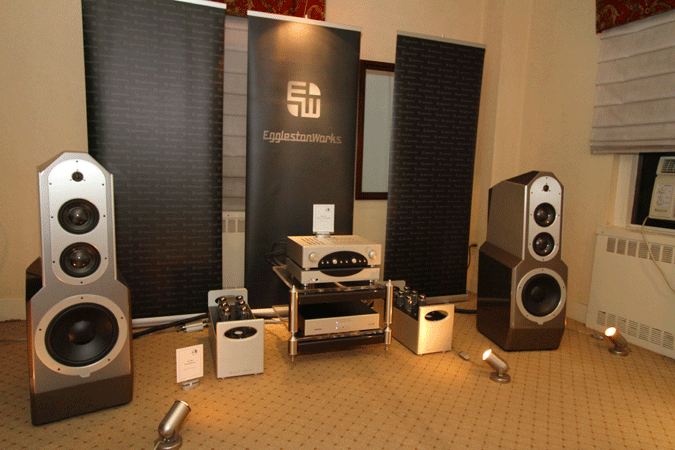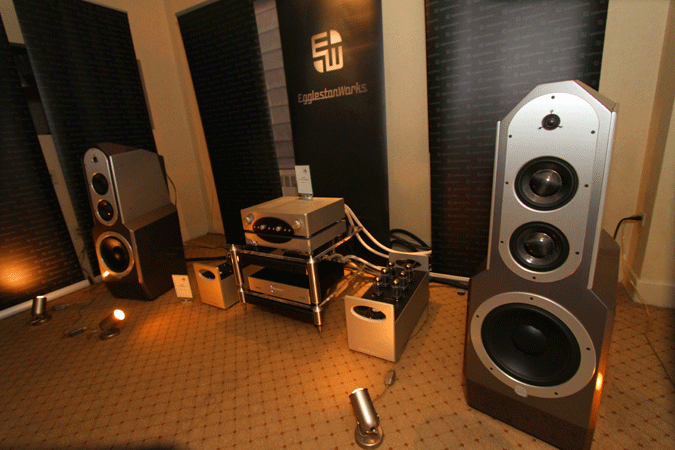 What a relief to listen to music at sane volume levels. In some rooms, the volume was so loud my ears were ringing when I left, but not in the Eggleston Works/Rogue Audio room. Not only was the volume sane, but the general sound was excellent. The combination of equipment probably had something to do with that: Rogue Audio Hera II preamplifier ($7,995), Rogue Apollo monoblock amplifiers ($10,995 pair), Meitner MA1 DAC ($6,750) and Eggleston WorksAndra III loudspeakers ($25,000 pair).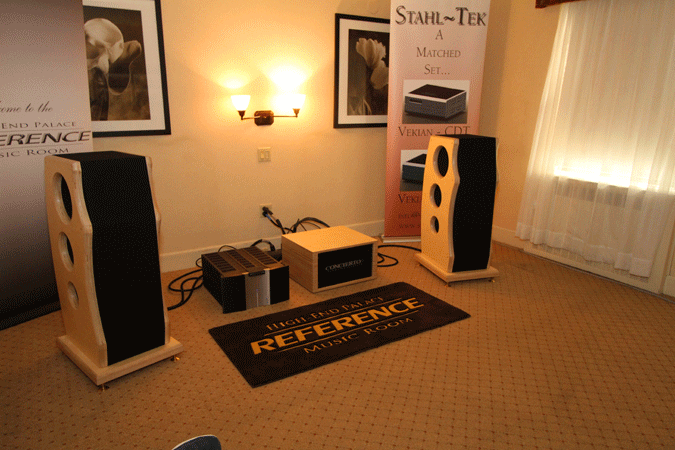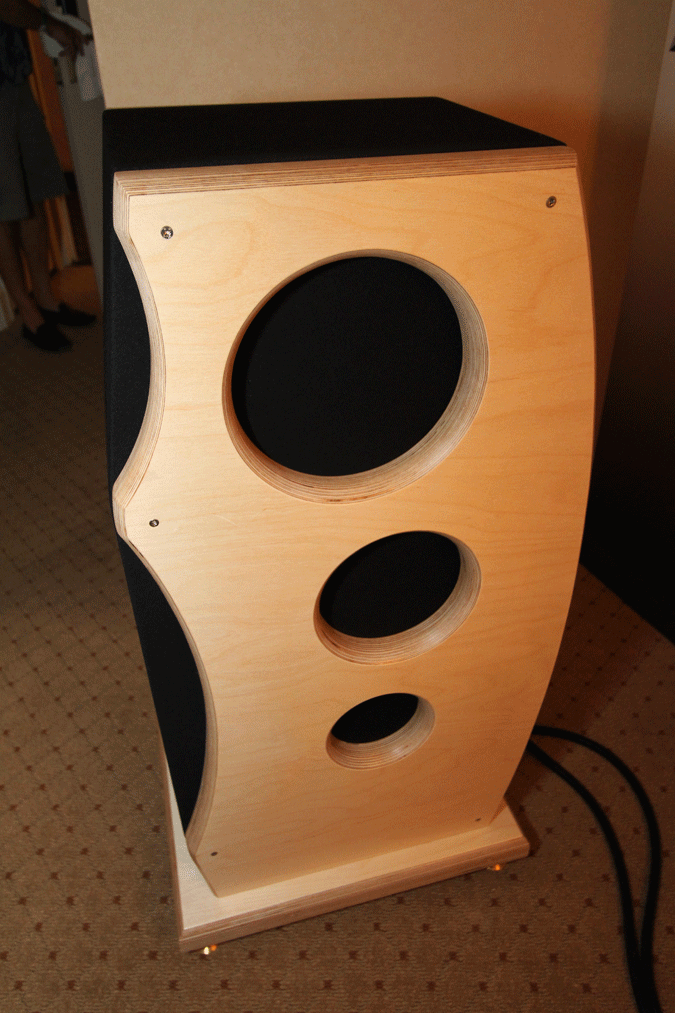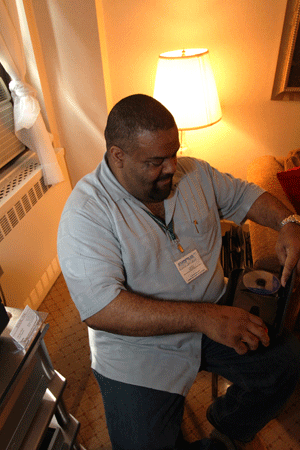 I visited the High End Palace room, a Miami, Florida high-end dealer headed by Mr. Larry Diaz (photo right), who debut the Mark Neumann Coliseum XLS loudspeaker at the show. Disguised like a conventional speaker, it is actually an open baffle design, utilizing six drivers in each enclosure ($32,000 pair). Since the Coliseum XLS does not have a crossover, a Concierto X1 SE active crossover ($18,800) performed that function. Power was supplied by the BAT VK 6200 stereo amplifier, while a TACT 2.2 XP ($6,800) served as the preamp. Source material was handled by the superb Stahl-Tek Vekian CD transport ($30,000) and D/A converter ($25,000) combo. Some jazz was playing which sounded very open and clean, though the bass was overloading the smallish room at times.