HE Show Report 1 of 3
Constantine Soo
August 2003
Quite a few prominent manufacturers, such as B&W, Krell, Linn, Mark Levinson and Wadia did not participate into HE 2003.

In addition to new DVD-related product announcements, Sony mentioned a new, 9.1 surround sound concept in their Press Day Conference. We were then ushered to a separate demonstration room on the other side of the hotel, in which five Wilson Watt/Puppy 7 loudspeaker systems were arranged: two in front, one at the center, and two more at the back on elevated platforms around 3' high. Amplification was Sony's new STR-DA9000ES receiver, playing newly re-mastered surround tracks by Bob Dylan and Steely Dan. Sitting in the front row just right of center, the music and vocals from the Dylan SACD were in front of me, with largely indistinguishable rear effects. On the Steely Dan remix, however, supporting vocals were coming from the rear, prompting one attendee to ask if we should be on the stage among the musicians at all. Sony's David Kawakami answered that the remix was to provide a more "involving" experience.

Not discounting the possibility that the Sony receiver was inadequate in providing for the Wilson speakers, I found the music through the presentation too sibilant to my ears.

Tannoy North America debuted the Eyris IDP (Interactive Digital Programming) loudspeaker system. A fusion of Tannoy's acoustic expertise and that of TC Electronics, its sister company, the series features Tannoy's proprietary Dual Concentric™ and Wideband™ technologies in all five speakers, namely the bookshelf Eyris 1, the floor-standing Eyris 2 and 3, and finally, the rear channel Eyris R and center channel Eyris C. The Eyris IDP contains an on-board digital processing and networking system that provides tremendous flexibility in "system-to-environment" matching via software packages. MSRP for the entire 5-speaker system is $25,000. Also, watch out for a review on Tannoy's Churchill Wideband Loudspeaker System.

In the Martin Logan room, the main focus was not 2-channel audio but home theatre. They used their massive Odyssey loudspeakers as front channels, and smaller models in the rear. Representatives from video projector company, Faroudja Labs, were present in support of the presentation, showing a DVD of Sylvester Stallone in "Driven". Amplification was by Manley Labs.

A most interesting 3D visual demonstration took place in the Sensio Room, which reminded me of my recent 3D experience at Universal Studios Los Angeles' "Terminator 2: 3D" show. However, the Sensio demo was a showcase of short excerpts from experimental films that I thought did not allow the system to prove its full potential.

Named Sensio 3D, the $2,995 system connects between a DVD player and a projector. Sensio refers to this system as a "high-end plug-and-play product." Compatible with conventional DVD players and CRT, LCD, DLP and D-ILA projectors, the experience involves wearing special LCD shutter glasses outputting 60 full frame images per second (30 per eye), activated by an infrared signal sent by an emitter installed above the screen. These active glasses can run for over 40 hours on two 3-volt, 2032 batteries for over 40 hours. Each customer will receive two pairs of wireless glasses, one DVD demo disc and a 3D movie; additional glasses will cost $58 per pair from a dealer.

In software availability, Sensio claims that about ten 3D movies are in worldwide production, including James Cameron's Ghost of the Abyss, plus 150 movies from the 50's, such as Alfred Hitchcock's Dial M for Murder and House of Wax, starring Vincent Price. Thrillers from the 80s such as Jaws 3D and Friday the 13th 3D will also become available soon. At the present time, Sensio is in the stage of negotiating availability of more 3D movies from studios such as Sony Pictures Classics, Sling Shot Entertainment, MGM/United Artists Home Video, The Stephen Low Company and IMAX Corporation. Videophiles should be happy to learn that the visual aspect of a home theater system may finally be catching up to that of the audio.

Another prominent company featuring home theater was McIntosh. McIntosh used the smaller room next door to showcase their $18,200 XRT-28 loudspeaker system, the $4,600 C-2200 tube preamplifier and the $8,200 501 solid-state monoblocks. All new products, the XRT-29 is a two-way system with a column of twenty, 4" midrange drivers, sixteen 1" dome tweeters, and two 10" woofers at the bottom. The C-2200 tube preamplifier has output meters like the power amplifiers, features eight inputs (including a MM Phono stage), and volume and source knobs that looked quite conventional on the front, while operating on ground-breaking technologies.

Quoting from the brochure, "McIntosh input selectors control state-of-the-art silent electromagnetic switches. Each switch consists of a glass tube containing oxygen-free gas and two signal leads separated by mere thousandths of an inch. The tube sits in a multi-layer copper coil and the entire assembly is encased in shock-absorbent plastic. When a DC voltage is applied to the coil in response to a switching command, current flow creates a magnetic field that causes the leads to bend and contact one another, completing the circuit. The inert gas eliminates corrosion of the contacts, ensuring a low-resistance, distortion-free switch that never needs cleaning."

Ken Zelin of House of Music, McIntosh's San Francisco dealer, stated in a casual presentation that the volume and source knobs of the C-2200 might feel like conventional switches but were actually operating in a nitrogen atmosphere, which would require maintenance from leakage of oxygen into the nitrogen environment every 300 years. Ken proceeded to stop the CD player and turn the idling preamplifier to full volume while running actively into the 501 monoblocks, then turning source selector to demonstrate the noiseless nature of the new preamplifier. He jokingly encouraged audiophiles to have other companies try turning sources at full volume, which he claimed would serve to eliminate the competition all together. A review on the 501 monoblocks is being arranged.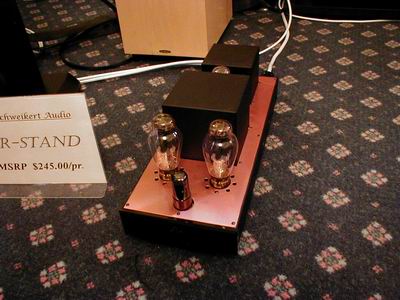 The Audio Note / GamuT Audio / Von Schweikert room displayed the $995 bookshelf VR1 and the $2,495 floorstanding VR2, supported by Audio Note's $15,000 TT-Three turntable including tonearm, a $6,000 AN cartridge plus a $7,000 step-Up transformer, a $35,000 M8 preamplifier and the $16,750 Conquest Silver Signature 300B monoblock amplifiers. GamuT Audio debuted its new $4,999, remote controlled solid-state preamplifier, the D2R, which was connected to the company's $5,999, 200 Wpc/8 Ohm D200 Mk III power amplifier playing music from its $3,500 CD-1. Despite their being the smallest models from Von Schweikert, the VR 1s and VR 2s exhibited full-range sound with either the AN or Gamut systems, prompting me to return to the suite twice a day throughout the Show. Watch for a review on the M8 and Conquest Silver Signature.