Equipment Lust in Las Vegas: Day Four
The 2002 International CES Show
Greg Weaver
11 February 2002
Thursday had promised to be a very good day, so after getting up at a normal time for the first day since I had arrived, it was off for a traditional breakfast at Denny's. I spent the morning on the Tuscany campus and made many uneventful stops and visits. However, buy lunchtime, things began to jump.
Standing in front of the G building, who should walk out and run directly into me? None other than Stereo Times publisher, Clement Perry. We spent a few minutes talking about what we had seen and what we still needed to cover, and got the necessary "business" taken care of before moving on to more enjoyable topics of conversation, when my cell phone rang. It was Dusty Vawter, who was just some one hundred feet away when he had phoned. That is one of the many ironies one encounters at a show this large. You call someone you've been looking for unsuccessfully and they turn out to be standing right behind you!
Many of you know Dusty was with Audio Alchemy, and has been busy working with Greg Shug with Monolithic Sound, but his emphasis is now on his own company Channel Islands Audio. Dusty had been doing some repairs on "Tin Ear's" DAC and besides returning it to me here at C.E.S., brought me two of his new products to examine. Some how it seemed terribly fitting, even though he was not exhibiting here this year, as that is what this show has always been about, the introduction of new products.
The CIAudio VPC-1 ($249) and the VDA-1 ($349) are new and Dusty is very proud of them. No, those prices are NOT misprints. Dusty has long been a champion of the belief that audio heaven be affordabel.
In accordance with his no nonsense design theories, both new units are housed in a diminutive 4.40"W × 2.65"H × 4.40"D chassis, which also keeps production and machining costs down. The new VDA-1 24/96 DAC is designed as the perfect upgrade for anyone out there with a CD or DVD based system with a digital audio output. It will accept word lengths of 16 to 24 bit at 44.1, 48 or 96 kHz, but does no upsampling, - the unit only receives what your device outputs. Careful design layout and short signal paths are used to perfection here. Inputs are via Toslink optical or RCA coaxial. The input signal is fed to a Burr Brown DIR1701 low jitter input receiver, then on to a Burr Brown PCM1716 digital to analog converter. The analog output is routed through a Class A output stage utilizing the Burr Brown OPA2132 opamp. All signal path resistors are Vishay metal film types with polystyrene filter capacitors and the unit is powered by an external 14 VAC power supply. My preliminary listening at this point has left me astounded. I will have a more complete look at this unassuming little DAC very soon.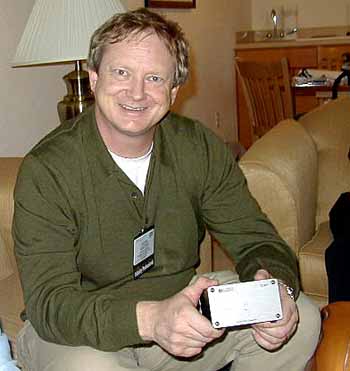 Dusty Vawter, of CIAudio, proudly shows off his new VDA-1 24/96 DAC. Retail - just $349!
Audio purists have long espoused the advantages of the use of a passive preamp. With today's signal sources, especially most outboard DAC's and Phono preamps, there is plenty of signal to drive an amplifier directly, without passing through another active gain stage, which increases the potential to increase distortion and coloration. The CIAudio VPC-1 is a supremely simple device offering just 2 pair of input jacks, a single pair of output jacks, a custom volume control potentiometer, and an input selector/mute switch. Careful design layout and short signal paths once again prove successful here. The VPC-1 uses a precision Alps potentiometer constructed with a double-screened resistive material and a beryllium wiper intended to offer exceptional channel-to-channel tracking and long life. For the input section, a single 3-position front panel switch toggles from "Input 1" to "Mute" and on to "Input 2." To afford level matching of widely disparate sources, Dusty has included Vishay metal film resistors and bypass jumpers. All jacks, switches, and jumpers are of exceedingly high quality have gold plated contacts.
I have to tell you that in the three weeks I've been using the VPC-1, this little passive is simply astounding. To this point, it has clearly surpassed the Monolithic PA-1 ($499) powered by the Monolithic HC-1 Power supply ($249), especially in terms of transparency and dynamics. That is nothing to sneeze at, considering the Monolithic Dynamic Duo had previously bested and thereby replaced a big name $4000 tube preamp. Look for a full report on the VPC-1 soon. This is one VERY interesting product. Thank you Dusty, for such eloquent execution of your vision of musical truth at realistic pricing.
Next up, another cell phone call put me in contact with Rich Hollis, of Hollis Audio Labs in Calloway Maryland. Many of you may know Rich as HAL, the anagram for his beta testing and development company, in all my writing.
Rich wanted to meet with me to show me something that had piqued his interest, a Computer Aided Room Acoustics application, CARA from RhinTek. He felt that it was something that I should be alerted to as it had so much to offer. After powering up his laptop in my room, he plugged in his portable headphones and played for me an acoustical representation of his listening room, sans room treatment. It was quite an interesting look into the Room/Loudspeaker interface. Once I got back from the show, I was in contact with Rainer McCown, and after expressing my interest in familiarizing our readers with what this $50 piece of software had to offer, a copy showed up in my mailbox. More on this digital tool soon.
It had been a great morning and early afternoon of camaraderie, which is one of the added benefits of attending these events, but it was time to get back to the business at hand, equipment lust!
I jumped on the shuttle and headed for the Alexis. I stopped briefly at the Clark County Library on Flamingo Road and Escondida St., where Wisdom was showing their One Million Dollar system. This was something to see and hear. It was one of the most unique and excessive things I've ever seen.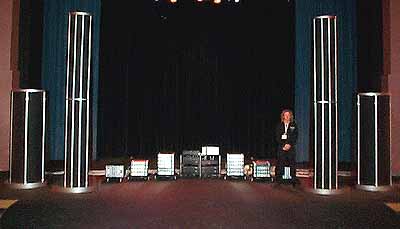 Robert Smith, dwarfed by the Wisdom/Rowland/Synergistic project - the One Million Dollar System.
Fronted by a Sony XACD source, signal was sent to the Jeff Rowland One Coherence Pre Amplifier. Form there, it got nuts. The Rowland One Coherence fed sixteen Rowland Model 10 and two Rowland Model 8Ti Hi current amps. Using a conglomeration of cables, the likes of which are typically seen ONLY at a top drawing rock concert, the amps drove the 14' tall Infinite Wisdom Grande Line Source Loudspeakers. This system break down is $200,000 in amplification, $220,000 in cabling and $600,000 in loudspeakers. In a word, OUTRAGEOUS!
As I walked in, I have to admit, I had no idea what to expect. The system was set up on a stage in the library. This threw a wrench into the works in that the original home of this killer system was to be a much smaller room in the Rio Hotel. This had the effect of putting the system something like three feet off the floor, causing the "sweet spot" to be much higher than was planned. After talking with Robert Smith, lead manufacturing engineer of Wisdom, I moved up into the theater and took a seat in row G, dead center. The sound was very surprising. I think that I was expecting something like a Public Address system. That was nowhere near the fact. It sounded VERY good. Top end was not overly bright, bass was tight, well articulated and very deep, and the midrange was surprisingly inviting, given the venue.
Looking more like a rock concert than a high-end audio expo, here is the mass of Synergistic cabling needed to make the Million Dollar System sing
To top it all off, they actually SOLD one to a Disney representative. Who would have thought that anyone would actually BUY a system of this cost and size. According to Robert Smith, this system is built for a room no smaller than 25' × 45' × 15', which pretty much rules out the listening rooms of most audiophiles I know. My guess is that it was done just to prove it could be done, and in that sense, it was a true success.
Back on the Shuttle, I soon arrived at the Alexis still shaking my head at the excesses of the Wisdom demonstration. I was soon brought back to reality in Brian Cheney's room where he was showing a new $4500 VMPS Ribbon speaker driven by the Ampzilla 2000, James Bongiorno's latest. Brian has been in this game since the late seventies, and I had grown familiar with his VMPS Super Towers, as those enormous speakers take up some serious space and are the speaker of choice in the Gallo-Meisters listening room in Southern Maryland.
James Bongiorno is also not a new name to this industry. Remember the Great American Sound, Co., GAS, back in the early seventies? James worked at Dynaco and was the designer of the famous Dynaco 400. He served as director of engineering at S.A.E. and then went on to found GAS. As it says on his web page, the rest is history.
Thought the music being played in this room during my stay was not my style, the sound was exceptional. Brian has been a stalwart icon in the industry for some time, with a strong devotion to the music, and his new designs, besides not being refrigerator sized, are exceptional sounding. I am hoping that he will favor the Stereo Times with a pair for audition sometime soon.
I also managed to spend some time with Jeff Smith, the drive behind the SilverSmith cables. His ideas are, to me, very correct. He believes in minimum involvement at the termination of both his speaker cables and interconnects. The speaker cables are flat, and rather than use a crimped, soldered or pressure fit spade, he simply notches the end of the cable, allowing for a highly effective connection to today's prevalent 5-way binding posts. His RCA terminations on interconnects are low mass and not complexly plated, making a solid yet low involvement connection. Simple, purest and effective. Reviews of his products are in the works.
Having heard so much about Don Hoglund and Granite Audio, I deliberately made my way to his room. Don was showing all his own products, source to cables to speakers. The source was his Sony based Model #657 CD Player ($2900), which in turn fed his Model #770 preamplifier ($4900). His gorgeous looking and sounding Model #860 DECO ($24700) amps have a full Granite enclosure and were driving his 3-way Model #280 Loudspeakers ($15,700). All cables were Don's designs as well. I finally was able to see what all the fuss was about. This room sounded wonderful.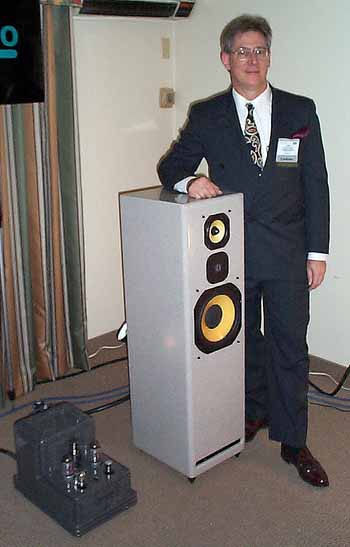 Don Hoglund, of Granite Audio, stands by his all-granite encased DECO amps and Model #280 loudspeakers
One mishap, entirely of my doing, occurred while I was in Don's superb room. When he asked me if I would like to hear something I brought along, I jumped at the chance. Shortly after my music started, I noticed a "spitty" noise predominantly coming from the left loudspeaker and, when I pointed this out to all in the room, the first thought was that something may have been amiss with the left channel amp. After taking the time and effort to change the left amp, the noise was still there. It turned out that the CD player was having problems with my CD-R! This was embarrassing to me, but as I explained to Don, it had not happened anywhere else. As it turned out, ONLY Sony based machines had any trouble with my discs. Feeling quite humbled, I apologized, and we continued to listen to some rich, wonderful sound. Don has much to be proud of, and his entire system approach also has much to be said for it. If you get the chance, go out of your way to give this equipment a listen. You won't be sorry.
After a wonderful experience with the Granite products, I made my way to Albert Von Schweikert's room. I was my honor this year to present Albert with the Most Wanted Component Award for his superb VR-4 Generation III loudspeakers. This year Albert introduced the dB-99 loudspeakers, a product designed specifically for use with low powered amps, like those of the highly popular SET variety.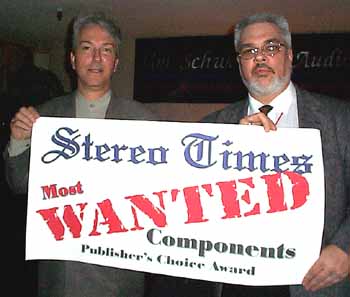 Albert Von Schweikert, left, and I as he receives his Most Wanted Component Award for the sensational VR-4 Generation III loudspeaker
My first exposure to Albert's speakers came at HAL's dedicated listening room where I heard the original VR-4. It was an event for me, not dissimilar to that of hearing the original Dahlquist DQ-10s some decades before. I have since lived with the Gen II's and Gen III's, have heard the VR-4.5, an upgraded VR-4.5 with components of the VR-6's (which I affectionately christened the VR 5.3's), the VR-5 Hovland SE's, the VR-6, the VR-7 and was able to spend a good deal of time with the VR-8, which now reside in HAL's listening room. Albert is quite simply one very gifted loudspeaker designer, and it was my privilege to award him with this accolade.
This year, Albert put on a serious group of demos, using a host of associated equipment to show just how good his new products were. His source was superb: all master tapes created by 30-year recording veteran Mike Pappas, played back on the Meitner/Genelex DSD Master Recording System ($20,000). A Linn CD-12 was on hand for playing the material show-goers brought with them for evaluation. The near universally praised Hovland HP-100 tube preamplifier ($6,500) fed a bevy of amplifiers over the course of the week including the 5 watt Wavelength Gemini monos ($6,000/pr), both the 10 watt Wavac 300B ($7995) and the exotic 100 watt HE-833 ($47,500 pr). One of the combos that really floored me was the use of John Ulrick's new Spectron Musician II, which so impressed me in the Spectron room at the Tuscany (using VSA VR-5 HSE's) that a new, improved version of the Musician II is bound for my listening room soon (More on this in the Friday report).
Albert paired all this gear with both the latest iteration of the VR-4, the Generation III ($4795), and his superb new dB-99 ($6,995 in Piano Black), which the Stereo Times will be examining soon. He used a variety of cabling from LAT to Analysis Plus to Acoustic Zen. The room simple sounded outstanding, regardless of equipment or cable pairings and it is no surprise that VSA components are on the Stereo Times Most Wanted Components listing.
Thursday night was the Press night at the VSA room. There were over 30 members of the press, talking and carrying on, all waiting to hear who would win the raffle. Albert was having a random drawing to award one member of the press their choice of either a pair of the new dB-99's or a pair of VR-4 Generation III's. When the drawing came, the winner was Ruby Kuegeman of the Long Beach Audio Society, and I have been told she chose the VR-4 Gen III, which will be a Hovland Special Edition pair. Congratulations Ruby!
After the party, I met Clement and his wife, and several of the other Stereo Times Gang, in the lobby of the Alexis. I met Jim Merod and Leon Rivkin for the first time, and both were fascinating characters. We all walked to the Bahama Breeze, a restaurant just a block from the Alexis. Dinner was fabulous, an engaging mix of food, beverage and camaraderie. We spoke of many issues, mostly things audio and the show in particular. Opinions were exchanged, some in agreement and many others debated. This was good conversation. When the meal was over and it was time for us all to go our separate ways back to our respective hotels, Jim and I opted for a walk, mostly as our hotel was in sight from the restaurant and partly because the wait for cabs was ridiculous. So it went, day four in Las Vegas.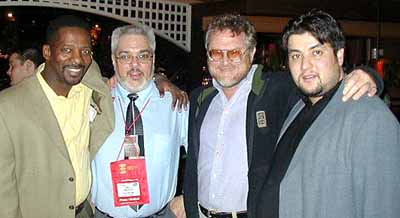 'Da Stereo Times Gang hooks up at 'da Bahama Breeze for a staff meeting and good converstation